New bike park is in the works! Show your face and join the talks to make Ruby Hill super sweet… Meet with Denver Parks and Rec, Progressive Trail Design and COMBA to preview plans and provide your feedback! Details here Tue July 30 6:30pm REI Denver 1416 Platte Street
***************EVENT UPDATES ***************
Due to the recent flooding, The Great Bonk Event is being rerouted. The new route is below. It will still be this Sunday at 8am sharp starting at GBS.
We will be asking for a $10 donation that will benefit Colorado Flood Victims. Rocky Mountain Racing will match up to $500 and will give the donations to the American Red Cross Colorado Relief Fund.
Riders should be prepared with their own fluids/food.
———————————
Rocky Mountain Racing (aka 'RMR') presents the:
"NOT the Great Bonk "
2013 re route
Neutral roll out from GBS to bike path (parallels 6th Ave) heading south.
Take a right on path intersection near Fossil Trace Golf Course (going under 6th Ave)
Continue heading south on path to base of Apex Park
Merge onto Hwy 40 for gradual climb that will take you under I 70
Turn right into Matthew Winters Open Space Park connecting to Village Trail (bikes
only) that quickly connects with Red Rocks Trail.
Turn left onto Red Rocks Trail heading south.
Connect with Red Rocks Trail Rd that takes you out of the park.
Turn left onto Bear Creek Rd
Turn right onto CO 8 heading
Turn right onto Forest Ave; signs for Mt. Falcon Park.
Turn right onto Vine St that takes you to Mt. Falcon trailhead.
Climb Castle Trail to summit.
Continue on Castle Trail past Walker Home Ruins.
Turn left onto Parmalee Trail (if trail is rideable) in a counter clockwise direction.
Turn left onto Meadow Trail that will connect back to Castle Trail heading north west to
upper parking lot.
Descend Mt. Falcon Rd (heads up for deer!) to Parmalee Gulch Rd.
Turn right on Parmalee Gulch Rd heading west.
*Water fill up opportunity on left side (south) of road near park. Requires
quarters!
Continue on Parmalee Gulch Rd straight on to Supai Rd which shortly puts you back on
to the summit of Parmalee Gulch Rd./Myers Gulch Rd.
Descend Myers Gulch Road (do not enter Lair O' the Bear trails due to flooding
damage).
Turn right onto Bear Creek Rd and descend to the small town of Idledale (good
opportunity to practice those pace lines and pass some roadies).
Turn left onto W. Grapevine Rd which turns into S. Grapevine Rd
Climb and then descend S. Grapevine Rd heading north.
Turn right onto the I 70 overpass taking you to Hwy 40 (road north of I 70).
Turn left onto Hwy 40 and then an immediate right onto Paradise Rd.
Continue climb on Paradise Rd/Charros Dr.
Turn right on Lookout Mountain Rd.
Turn left on Colorow Rd (or singletrack on right of road) that takes you up to Boettcher
Mansion.
Descend Chimney Gulch Trail; take left at bottom trail junction that will continue under
Hwy 6 and connect you back to bike path.
Turn left on bike path, cross Clear Creek and make your way back to GBS for a nice
cold beer, delicious food, and great company!
~ 40 42 miles from GBS (?)
New bike park is in the works! Show your face and join the talks to make Ruby Hill super sweet…
Meet with Denver Parks and Rec, Progressive Trail Design and COMBA to preview plans and provide your feedback! Details here
Tue July 30 6:30pm
REI Denver 1416 Platte Street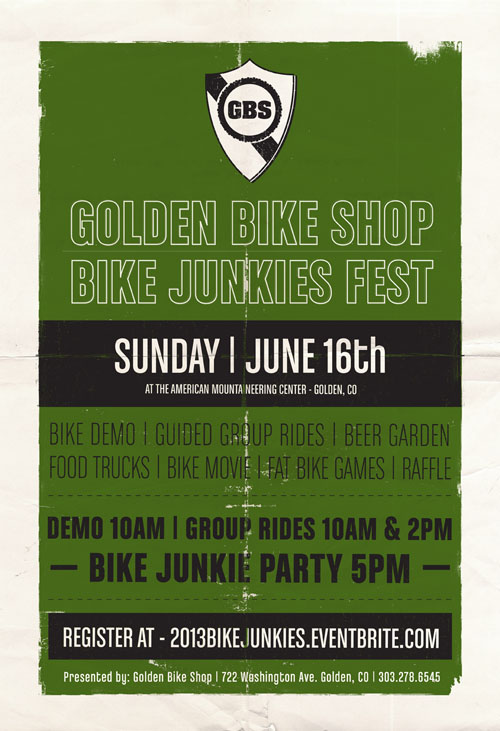 GBS Presents: Bike Junkies Fest
Sunday June 16
10am – MTB Demo
10am & 2pm – Group Rides
5ish – Food Trucks | Raffle | Beer Garden | Fat Bike Games
This year we will be turning our successful Bike Junkies Party into a full day festival. The day will start at 10am with a demo, and guided mountain bike rides. The rides will be lead by our sponsors and GBS emloyees.
Starting this Tuesday, 5/14/13, we will be hosting some fun and mellow(ish) group mountain bike rides every Tuesday starting at 5:30pm from GBS. The trail and terrain will vary, but expect to see our weekly ride posted every Tuesday on Facebook. Come out and ride!
Attention bike junkies, if you are in the market for a new bike this season, be sure not to miss our free demo days!  If you aren't in the market for a mountain bike come out anyway, hang out, ride some sick new bikes, and let us convince you that you need one.  Demo days are always a good time.
May 19th 10am-2pm – Demo at Apex Park w/ Pivot Cycles, Sidi Shoes, and Spot Brand
June 23rd 10am-2pm – Demo at White Ranch Upper Parking Lot w/Yeti Cycles, and Rocky Mountain Bikes
July 7th 11am-2pm – Pivot Demo Van at GBS
July 14th 10am-2pm – Demo at White Ranch Upper Parking Lot
August 18th 11am-4pm – Demo at GBS
2013 Demo bikes are now for sale! Get 'em quick!
Fat Bikes
Surly Pugsley (XT w/ Hope brakes)
Steel Fatbike
MD
$3,200
$2,500
Surly Pugsley (SLX)
Steel Fatbike
LG
$2,800
$2,000
Mountain Bikes
Pivot Firebird
Aluminum FS 26er
LG
$5,200
$2,700
Pivot Mach 5.7 Carbon
Carbon FS 26
LG
$5,000
$3,100
Niner Air 9 RDO
Carbon Hardtail 29er
MD, LG
$4,800
$3,100
Santa Cruz Tallboy C
Carbon FS 29er
XL
$5,900
$3,950
Santa Cruz Tallboy LT C
Carbon FS 29er
MD, LG
$5,900
$3,900
Santa Cruz Highball C
Carbon Hardtail 29er
LG
$4,450
$3,300
Turner Burner
Handmade Aluminum FS 650b
MD
$5,150
$3,900
Yeti 575
Aluminum FS 26
XS
$4,200
$2,900
Yeti SB66 Carbon
Carbon FS 26
LG
$5,900
$3,900
Rocky Mountain Instinct
Aluminum FS 29er
MD
$4,400
$2,950
Rocky Mountain Element 970 BC
Carbon/Aluminum FS 29er
MD, LG, XL
$5,000
$3,450
Rocky Mountain Altitude
Carbon/Aluminum FS 650b
SM, LG
$5,000
$3,450
It's the moment you've all been waiting for. Fat bike demos are for sale. Get stoked. Come get 'em before they're gone!
Beargrease – MD, LG – $2,300
Mukluk 2 – MD, LG – $1950
9:ZERO:7 (X7/X9 build) – SM, LG – $2,100
Pugsley (XT build w/ Hope brakes) – MD – $2,500
Pugsley (SLX build) – LG – $2,000
Bam!
Check out the latest build from the wrenches at GBS!  And for your viewing pleasure, there is a short maintenance montage documenting the assembly of those beautiful orange wheels.
Save the date for the Colorado Mountain Bike Association's annual meeting 6:30pm Thursday, March 14th at the American Mountaineering Center in Golden. Help us celebrate COMBA's 2012 accomplishments with an evening of camaraderie, free beer, swag and a preview of the events currently planned for 2013.
You must be a COMBA/IMBA member and you can renew that night or you can renew online.